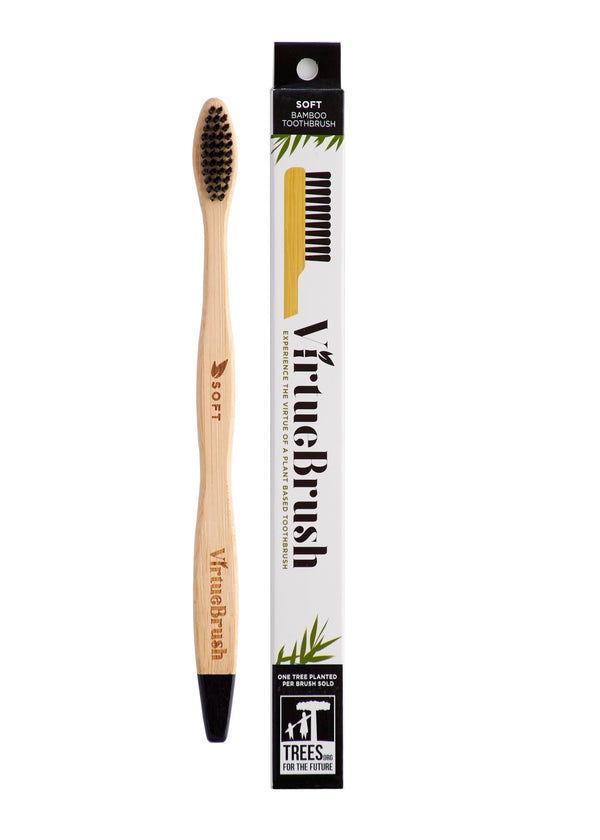 ADULT - ACTIVATED CHARCOAL BAMBOO TOOTHBRUSH – SOFT
Regular price $6.00 Sale
Activated Charcoal Bamboo Toothbrush for Adults
The ergonomic and stylish biodegradable handle is made with 100% Moso Bamboo, a rapidly renewable and biodegradable Giant Grass type with natural antibacterial qualities. Bristles are compostable nylon4. 
'Best Oral Care Product' at this year's 'Retail Pharmacy Product Awards', scoring highly for reach and comfort.
With its slim rounded Diamond Shaped Head, the VirtueBrush Activated Charcoal Bamboo Toothbrush is designed to maximise brushing reach and comfort and is particularly suitable for people with sensitive gums. 
The Bristles clean along the gum line and between teeth exceptionally well, delivering deep clean performance.
Charcoal infusion also helps keep bacteria at bay between brushing. 
Plastic Free recycled white cardboard packaging. 
To dispose of your toothbrush please place in your brown bin for commercial composting. Alternativley pull out the bristles with a pair of pliers for commercial composting and re-use the handle in any creative way you can think of or simply compost the handle at home.
Vegan. BPA-Free. Natural and Non-toxic.
ADULT - ACTIVATED CHARCOAL BAMBOO TOOTHBRUSH – SOFT