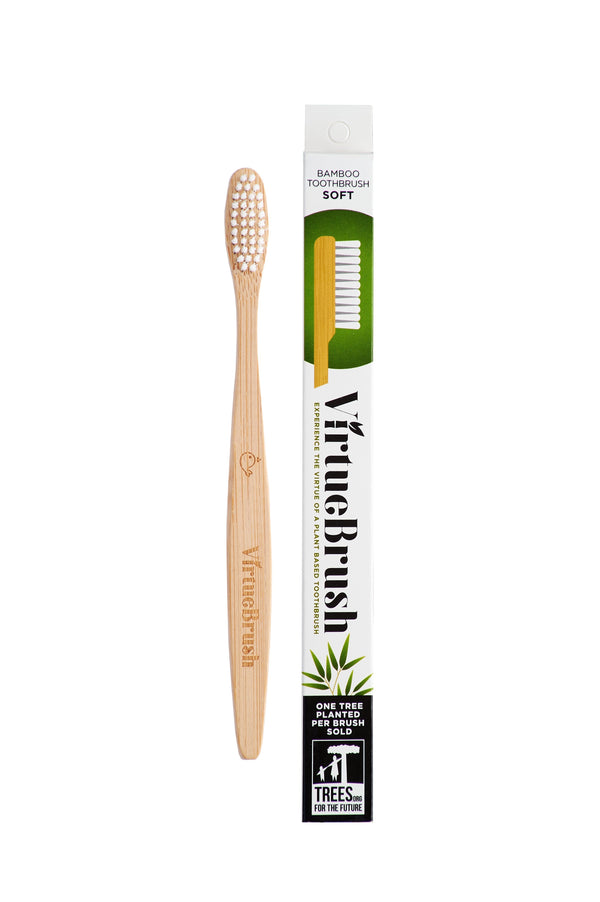 ADULT - FLAT WHITE BAMBOO TOOTHBRUSH - SOFT
Regular price $6.00 Sale
Flat white bamboo toothbrush
The Bamboo provides a beautiful non-slip handle that is naturally biodegradable, antibacterial and smooth to the touch.
The Handle is flat and rounded at the edges for a comfortable ergonomic grip. Bristles are compostable nylon4. 
Each toothbrush has a unique sea animal symbol laser engraved on it. 
The 3.6 billion or so plastic toothbrushes produced globally each year are hard to recycle and often end up in landfill, our waterways and oceans. By choosing to buy a VirtueBrush Bamboo Toothbrush you are reducing the burden of plastic on the environment.
Dentists recommend changing your toothbrush every three months.
To dispose of your toothbrush please place in your brown bin for commercial composting. Alternativley pull out the bristles with a pair of pliers for commercial composting and re-use the handle in any creative way you can think of or simply compost the handle at home.
Vegan. BPA-Free. Natural and Non-toxic.
bamboo-toothbrush-holder
activated-coconut-charcoal-mouth-detox-mouthwash
ADULT - FLAT WHITE BAMBOO TOOTHBRUSH - SOFT